Melissa and Doug was founded in 1998 in the garage of Doug's parents' house.  It has since grown in leaps and bounds and is now a well known brand the world over offering over 2000 innovative products for children of all ages.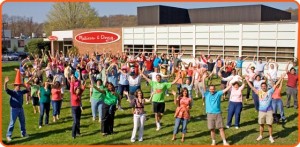 Melissa and Doug has a wide selection of innovative Puzzles.
The variety of Wooden Puzzles is very impressive and the collection features the following categories of wooden puzzles:
Developmental benefits of wooden puzzles:
With the wide variety of plastic battery operated toys available to parents these days, less consideration is often given to wooden toys which are typically not battery operated. While plastic battery operated toys are passive in nature, wooden toys which are not battery operated are active toys, offering significant developmental benefits. Wooden puzzles promote eye-hand coordination, fine motor skills, cognitive skills, concentration, motor planning and social skills.
Our top picks from the Melissa and Doug Wooden Puzzle line for ages 1+ through 3+:
1 + years
Around age one, children delight in fitting a piece into the "right" spot. Try an oversize Knob Puzzle with just a few big pieces to encourage them. The individual pieces fit into distinct spots in a recessed puzzle board, so each one is like a separate one-piece puzzle. Pieces with large handles are easiest to grasp. Source: Melissa and Doug
This 8 piece large knob puzzle is the ideal first puzzle for your toddler. The large knobs are especially designed for your toddler to grab, hold and release with ease. The brightly colored puzzle pieces will attract and hold your toddler's interest. This puzzle is a great introduction to shapes and colors and will grow with your child. Each puzzle piece is color coordinated with its base, and is perfect for the beginner learner who needs additional cues and guidance.
2 + years
For older toddlers beginning to engage in imaginative play, Chunky Puzzles are ideal. Both puzzles and play sets, they feature big pieces that are easy to hold and thick enough to stand up for pretend play! (They also make good first manipulatives-use them for counting and sorting.) Source: Melissa and Doug
This delightful puzzle will charm and engage your child with its sweet safari characters. The pieces are thick and substantial and easy to grasp. The image of each animal is imprinted in the base which helps to cue the child to identify and match the correct piece in its place. Parents can get involved and encourage their toddler to seek out the animal by showing them the puzzle piece and asking them to point to the matching location and insert the piece. This particular puzzle will help your child to improve his figure ground perception among other skills. This puzzle will also grow with your child being used for pretend play later on. Each puzzle piece can function independent of the puzzle base in pretend play scenarios with each piece being able to stand vertically on a table or on the ground.
3 + years
No toy collection is complete without these classically cut wooden jigsaw puzzles. Each beautifully illustrated puzzle is assembled in a sturdy wood tray. With piece-counts ranging from 12 to 48 pieces, and an amazing variety of fun themes, we have a puzzle to delight any young child.
On the Farm Wooden Jigsaw Puzzle 12 piece
This 12 piece puzzle is the ideal size for the child who is new to tackling jigsaw puzzles. The Melissa and Doug design team designed this puzzle with careful thought and attention so that the child will build the puzzle within a frame for additional guidance. The wonderful farm animals are endearing to all children and parents can further engage their child by talking about each farm animal and what they are doing.  The puzzle is sturdy and well made and will provide your child with a wonderful introduction into the world of jigsaw puzzles.
PURCHASING
These puzzles may be purchased at www.MelissaandDoug.com
Shop Toys by Toy Type, New Products as well as Age and Skill.
Shopping for a gift? Check out the gift finder
For further information and to see the full line of products, please visit MelissaandDoug.com
All images copyrighted Melissa and Doug