What are the advantages of a Nursing Bra?
Breastfeeding is natural but not necessarily easy. There are several products on the market which can help make nursing your baby less challenging and more comfortable, especially when you are in public. Nursing bras are designed with cups that open to allow easy access to the breast. They are comprised of material designed to expand and contract to accommodate changing breast size. High quality nursing bras are engineered to support heavy breasts, thereby helping to protect delicate breast tissue and preventing neck and back aches. In addition, they usually feature several rows of hooks at the back to allow for changes in the rib cage, allowing you an extended period of wear.
What to look for when shopping for a Nursing Bra
A good nursing bra will allow you to open and close the cups with one hand. This is important because your other hand will be holding your baby. The bra should support the breast even when the cup is open. The bra should fit you comfortably; if it is too tight, you may be vulnerable to plugged ducts and infection. Try to avoid underwires in the initial few weeks. When purchasing a nursing bra with underwires, take extra care to ensure that you have a perfect fit.
When to buy, what size to buy
One of the first signs of pregnancy for many women is the increase in breast size, often before the pregnancy has been confirmed. During the final weeks of your pregnancy (from 36 weeks), you can get measured for a nursing bra. Keep in mind when shopping for your initial nursing bras that your ribcage will decrease after the baby is born and your cup size will increase.  A good rule of thumb is to purchase 3 nursing bras, one to wear, one to wash and the third as an extra. If you prefer washing less, consider purchasing a few more. You can wear these bras during the initial post partum weeks. Once your breast size settles down (usually after the 2nd week) you can shop for additional bras. If you have the opportunity to be professionally fitted for a nursing bra, take advantage of the service. Don't forget to allow room for your breast pads which become a necessity for any nursing mom.
Introducing Melinda G™ Nursing Bras
Melinda G™ nursing apparel is specially designed for you. Melinda G™ use beautiful fabrics similar to your regular bras, only their bras open for nursing access. All Melinda G™ nursing bras feature seamless cups so there are no seams to chafe delicate breast tissue. In addition, comfort straps to eliminate bounce, and back hooks and eyes adjust to your changing figure. Select soft cup styles feature under-the-breast channeling for the support of an underwire without one.
While there are several nursing apparel brands on the market, many are overpriced, and do not deliver when it comes to quality, function and comfort. We are very excited to discover the Melinda G™ line of high quality, feminine nursing apparel, which nursing moms will greatly appreciate. The line is made in Costa Rica of soft American and Canadian fabrics, and you can be assured that you purchasing a quality product, made under fair labor conditions. Melinda G™ supports some very worthy organizations and we commend them for giving back to the community.
Melinda G™ hasn't forgotten the more endowed nursing mom and offers extended sizing for many of their styles with positive and empowering names such as "fab! curvy™ voluptuous" and "cool! curvy™ va-va-va-voom."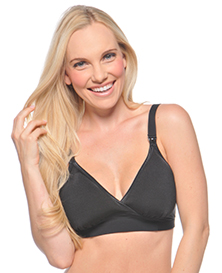 Introduced in January 2013, the Melinda G™ Smoothly Divine™ Tee-Shirt Soft-Cup Nursing Bra with Removable Pads #2175 has a beautiful sweetheart criss-cross neckline.  The cups are made of a wonderful spacer fabric and are double-ply (the liner cup – and the rest of the bra – is supportive 82% nylon/18% lycra) with removable pads. Mom wears the bra with the pads for discretion against show-through and added OOOOMPH! or she wears the bra without the pads for natural contours.  Either way, she looks great! This bra features one-handed clips on the cups and comfyCurves™  under-the-breast channeling for extra support, along with non-stretch straps and 4-across back hooks & eyes.
New Sizing Ranges coming this summer
Moms with smaller cup sizes can now rejoice because this bra is now available in smaller cup sizes!
Melinda G™:
"New sizes this summer are x-small (fits 30D-32B-32C) and fab! curvy x-small (fits 30E-30F) and we are already hearing how wonderful this bra is for the smaller nursing mom! Available in nude or black"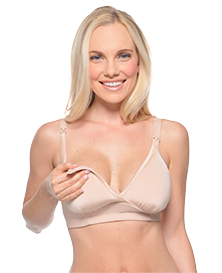 Why we love the Smoothly Divine™ Tee-Shirt Soft-Cup Nursing Bra with Removable Pads #2175 (pictured above)
This bra checks all the boxes when it comes to comfort, support, style, function and versatility.  We love the low cut design which allows moms to wear this bra with all styles of tees without the fear of her bra showing. The seamless cups protect against chafing of the delicate breast tissue. The comfyCurves™ under-the-bust channeling ensures that your breasts are well supported without the addition of an underwire. The one handed clips are the easiest clips to operate that we have ever tried and will enable mom to feed baby instantly without any fuss. The removable pads allow your breasts to be fully concealed. Overall a great pick!
The Melinda G™ tee-shirt nursing bra #2115 is a full-coverage bra made with one fabric, a very supportive 82% nylon/18% lycra fabric.  It is a very lightweight, very supportive bra with a high center front.  It is available to G-H cups. Available in nude or black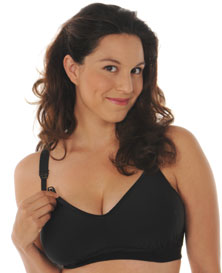 This tee shirt nursing bra has the comfort of a sports bra but without the squished uni boob effect! The brilliant comfyCurves™ under-the-breast channeling supporst the weight of the breasts without the need for an underwire. The soft fabric is super comfortable and feels beautiful next to the skin. The seamless cups protect against chafing of the delicate breast tissue. The one-handed clips on the cups make nursing your baby very simple. Our experienced tester has named this bra "The most comfortable nursing bra that she has ever tested". Highly recommended.
PURCHASING
To find a retailer in your area, please click here. Alternatively, shop online from the comfort of your home.
To see the full collection from Melinda G™, please visit www.MelindaG.com