Louisa Mesquita Bakker founded Funky Fat Foods 5 years ago after adopting a low carb, high fat lifestyle in order to address and successfully manage a health condition. Louisa has created a gourmet line of chocolate bars which are keto friendly, plant based, soy, sugar, gluten and trans fat free. The chocolate bars are made with very clean ingredients and have organic cacao, organic MCT powder and organic erythritol as the main ingredients which sets these bars apart from others on the market.
While traditional chocolate bars are laden with low quality cocoa, unhealthy sugars and artificial sweeteners which will spike your blood sugar, funky fat choc bars are made with 4 or 5 clean ingredients and average 2.5 net carbs per bar which is truly remarkable. Funky Fat Choc Bars are made in the Netherlands and as with all EU packaged products, the total carbs have already been subtracted from the fibre. Net carbs can be calculated by subtracting the polyols (e.g. erythritol) from the total carbs.
The Funky Fat Choc line currently consists of 5 delicious flavours: White Chocolate 48% and Bourbon Vanilla, Coconut, Dark Chocolate 70% and Coffee, Dark Chocolate 75% and Dark Chocolate 71% and Hazelnut. Our taste test panel unanimously agree that the chocolate bars are exceptionally creamy and richly flavoured with a melt-in-your-mouth texture. The bars are sweetened to perfection and are the ideal treat to finish off your meal.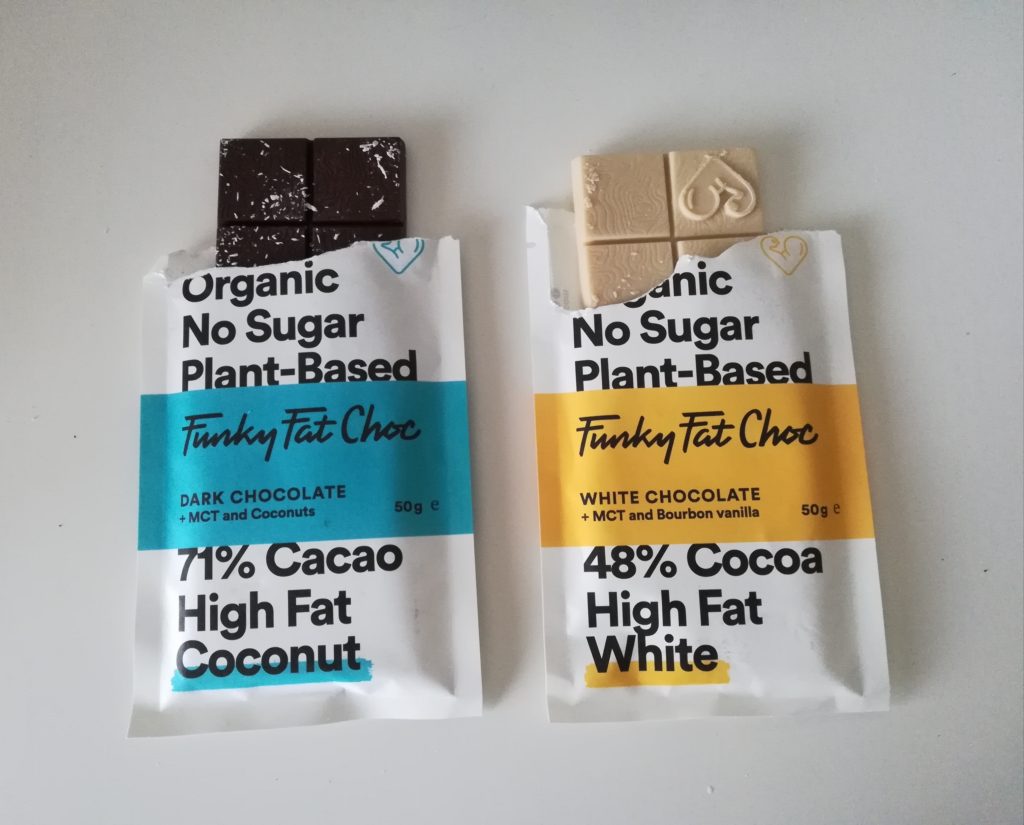 The White Chocolate bar 48% and Bourbon Vanilla, is a healthy take on the traditional sugar laden and highly processed white chocolate bars from our youth. This rich and creamy bar has a lovely Bourbon Vanilla flavour which will transport you to a tropical island and remind you of a carefree summer holiday. For readers who are sensitive to caffeine, but are craving something creamy, this white chocolate bar is a great choice. The Dark Chocolate 71% and Coconut, will appeal to all the coconut lovers out there. The subtle coconut flakes pair perfectly with the rich, creamy and smooth dark chocolate and is the perfect flavour to reach for when you want something a little bit different.
The Dark Chocolate 70% and Coffee is the flavour to reach for when you need a little pick me up in the morning. The coffee granules add a little crunch to the bite and the mocha flavour is not overwhelming like other coffee bars on the market. The balance between the rich, smooth and creamy dark chocolate and coffee is sheer perfection and this flavour is sure to be a favourite choice amongst our readers. The Dark Chocolate 75% was very well received by our panel and a standout winner. If you have ever tried your hand at making dark chocolate at home, you will appreciate how extraordinarily difficult it is to create a smooth and well balanced bar with the right texture. The Dark Chocolate 75% strikes the perfect balance between creaminess, sweetness and luxurious melt in your mouth texture that it is sure to be the flavour that you will reach for time and time again.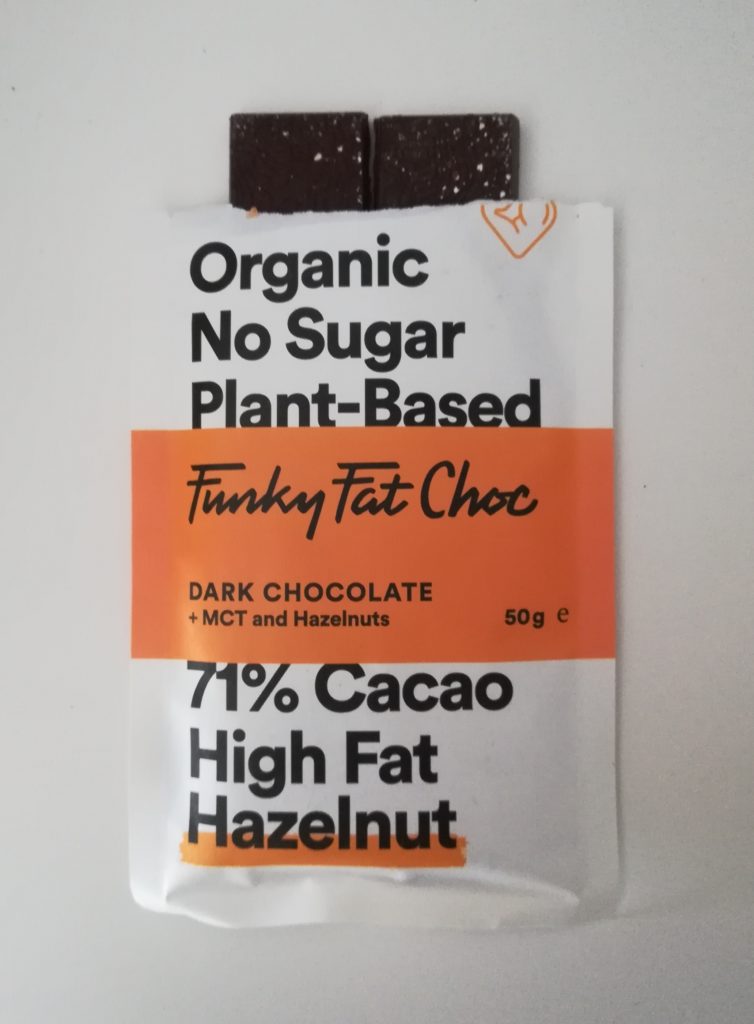 Last, but certainly not least, is the Dark Chocolate 71% Hazelnut, which has a subtle nutty hazelnut flavour and is a lovely choice if you are in the mood for something nutty. Our panel loved all the flavours but the Dark Chocolate 75%, Coconut and Dark Chocolate 70% and Coffee were clear favourites.
The Funky Fat Choc line will appeal to all chocolate lovers but particularly to readers with diabetes, those who are following a low carb or keto lifestyle and those who are health conscious and seek out food items with healthy and clean ingredients.
GIVEAWAY:
Courtesy of Funky Fat Foods, we have one variety box of chocolate bars (2 x each of the 5 flavours) to giveaway to one lucky reader.
Congratulations to Paula M from Wales.
PURCHASING:
Please visit the online shop to purchase your box of chocolates. If you are new to this line, we highly recommend purchasing the variety pack in order to sample each of the 5 delicious flavours and then you decide if you would like to purchase single flavour boxes.
The Funky Fats Foods website has recipes to support a keto and low carb website.