The Award Winning One&Only Cape Town Hotel and Resort boasts stunning views of Table Mountain and is superbly situated at the Victoria and Alfred Waterfront.
One&Only Spa
A member of our panel was kindly treated to a Bastien Gonzalez Duo (Manicure & Pedicure) at the One&Only Spa, the ultimate in luxury and total relaxation.
Bastien Gonzalez Mani Pedi
No more old fashioned aggressive sand paper emery boards
No harsh foot files
No painful cuticles post treatment – due to harsh cutting or clipping
No aggressive blading or cutting of skins
No harsh chemicals from traditional varnish
No infections from inferior sterilization of tools and foot spa's
Bastien Gonzalez, a French Podiatrist, has developed an innovative and holistic manicure and pedicure which is exclusively available at One&Only Spas Worldwide.
For the mani pedi option, both the hands and the feets will be simultaneously worked on by 2 staff members. The talented staff use a waterless technique to perform the mani pedi which is truly unique to the Bastian Gonzalez Mani Pedi. In addition, diamond head tools are used and the cuticles are not cut or pushed back and no pumice stone is used as per tradtional mani pedis. The staff offer guidance for home care and also tips for maintaining healthy and beautiful skin and nails. Bastien himself visits each salon regularly to ensure that the all the staff are properly trained and this translates to excellent customer experience. The piece de resistance is the wide range of nail polish used to complete the mani pedi with many beautiful colours on offer. Our tester was pleasantly surprised that the nail polish didn't have any nasty odour as is typical with nail polish and best of all, the nail polish performed beautifully and was long lasting. The mani pedi took about 1 hour and 45 minutes to complete and as an extra bonus, our tester was offered some luxurious chocolates to complete her spa experience. When asked to describe the experience, our tester replied "outstanding".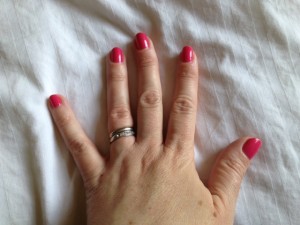 We highly recommend booking an appointment at the One&Only Spa and treating yourself or a loved one to a Bastien Gonzalez Mani Pedi (available separately as well), which will change the way you care for your nails.
For additional information and to book, please click here.
+27 21 431 5800
All images copyrighted One&Only