There are many benefits to carrying your baby in a carrier. Studies indicate that babies who are carried in a carrier CRY LESS compared to those that aren't. In our modern society of expensive and trendy strollers and other "containers", it is a pity that many parents are unaware of the concept of carrying your baby in a carrier, which costs a fraction of the cost of most strollers and offers many more benefits. Lets examine some of the sensory and motor experiences of babywearing and contrast them with the same baby in a stroller. A baby in a stroller is physically away from mom/dad's body, and usually can't see his parents or smell them or
even hear their voices. He lies passively on his back in his stroller, and may be confused and even disoriented, with no human touch to soothe or reassure him. A baby positioned correctly in a carrier is worn close to mom/dad's body. He can feel their heartbeat, see their faces, hear them talk, smell them and is reassured by their touch. Bonding occurs without any hassles and successful breastfeeding is more likely with baby being carried against mom's body. The baby in the carrier is not lying flat on his back, but rather in a range of positions which will place less pressure on his skull, reducing his risk of developing plagiocephaly. He moves with mom/dad and in turn receives vestibular stimulation. He is actively engaging his muscles as he shifts to maintain his balance as mom/dad move. He is working on developing his head control and strengthening his muscles, unlike the baby in the stroller, who remains passively on his back. The baby in the carrier is receiving what is essentially a swaddling like effect in the carrier which calms him via proprioceptive input to his joints. Mom/dad are more in tune with his needs, as they are very close to him. He can look up and see their faces.
There are many soft carriers on the market to select from. We have previously featured the Boba Baby Wrap, one of our favorite wraps and today we are focusing on the Boba Baby Carrier. Introducing the 3G Baby Carrier from Boba. Boba is a Soft Structured Carrier (SSC) that is intended for babies and children between 7-45lbs. Carry options include both front and back carry. The Boba Baby Carrier is available in a regular and organic version. We will be highlighting the Organic Baby Carrier today. The Organic Baby Carrier is available in 3 different color options: Chestnut, Pine and Walnut.  The Boba Organic carriers are made with 100% Organic cotton and are free from any potential harmful materials or dyes.
The 3G Baby Carrier offers some significant improvements over the past 1G and 2G models, per the chart below:
Boba offers several innovative features not seen on other carriers:
The foot straps attached to the waist belt keep older children comfortable while enabling a healthy sitting position. The footstraps not only give tired little legs a rest, but support the legs in a flexed abducted (froglike) position which naturally tilts the pelvis, fills out the hip sockets and aligns the spine.
The new infant conversion option allows you to use the Boba Carrier 3G with babies over 7lbs. The best part is that there is absolutely no insert or accessory needed! Simply follow the instruction booklet included with your Boba Carrier to learn how to use the new Boba Carrier 3G for your newborn.
Boba has a few extra inches of height to keep your center of gravity closer to your body and support your little one's back. The Boba Carrier 3G is approximately 2-3"  higher than other soft structured carriers.
The new 3G design is made to fit parents of all shapes and sizes without purchasing an extension belt or accessory. All straps are fully adjustable, and elastic bands are provided so you can comfortably tuck the straps away once you have the carrier adjusted for you and your child.
UNIQUE FEATURES
Left: Boba is designed with a few extra inches of height to keep your
center of gravity closer to your body and support your little one's back. This in turn reduces shoulder strap pressure and helps you maintain a good posture. In addition, your child has the option to put their arms in or out of the carrier. A purse strap holder on the shoulder straps is a new feature which will allow moms to carry less when running short errands.
Right: The innovative sleeping hood supports baby's neck in a neutral position during nap times and shields him from the elements. It removes easily for versatility. New for the 3G model are the adjustment straps and zipper pocket on the hood which adjusts to support a newborn hold and adds additional storage respectively.
What makes the Boba very unique is that it features foot straps (attached to the waist belt) for the child's feet to be placed in, thereby enabling a healthy sitting position for the child. Obtaining the 90-90 posture (approximate joint angles at hip and knee) is favored by many pediatric experts when referencing ergonomic seating positions. The footstraps not only give little tired legs a rest, but support the legs in a flexed abducted (froglike) position. In addition, the foot straps may have a calming effect on fussy babies due to the proprioceptive input to the feet.
Despite the Boba Baby Carrier being very lightweight, it is  designed with safety in mind. Correctly worn, the Boba will support baby in an ergonomic position by placing baby in a seated position with abduction of the hips (knees apart) with the weight off the spine with hip flexion greater than 90 degrees (baby's bottom is lower than knees). This position looks similar to a "squatting position" which toddlers assume throughout the day. For the adult, the well padded wide shoulder straps and the supportive waist band (to be worn on the hip for shorter people) help to distribute baby's weight evenly, thus minimizing shoulder and back pain. The waistband is now adjustable from 25″-58″ (new extended length) to accommodate most parents. The multiple pockets (new) allow parents to store essential while on the go. Even the most well designed and constructed carrier must be worn correctly to reap the benefits. Our veteran engineer commented that the Boba Carrier is well designed and constructed, is streamlined in design and offers quality finishes and components. The back position requires some practice to hoist baby onto your back, but can be easily mastered by having someone spot you, with the bed and mirror close by for the initial few times.
The fabric is lightweight yet strong and super soft against both the baby and the wearers skin. It is important to select products with organic fabrics whenever possible, as the skin is our largest organ and it readily absorbs chemicals. Conventional cotton is grown with many pesticides and herbicides which can be directly absorbed into the skin when wearing clothing. Organic cotton on the other hand is produced with no chemicals and is a healthier alternative, particularly for baby's sensitive skin. From an environmental point of view, we only have one earth and we need to do everything that we can to protect it for future generations. Pesticides and chemicals wreak havoc with the earth's fragile ecosystem and the toxic chemicals end up in our water supply and food chain, which can have disastrous consequences.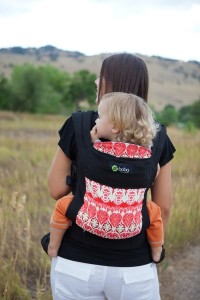 Our test panel reported that the carrier felt extremely comfortable to wear throughout their day and made grocery shopping a breeze. The Boba can be tucked away into the waist belt when not in use saving the wearer precious time by not having to put it on and take it off frequently. One parent reported that when wearing baby in the back position, they noticed an improvement in their own posture! In addition, baby fell asleep immediately and when it was time to set her down, they were able to transition her from carrier to crib without her waking. Careful thought, skill and planning has gone into creating this very unique design.
We have reviewed many, many carriers over the years, but this one is very special. Most structured carriers are very heavy and hard to wear in the summer months, but the Boba is well designed for year round use. The new 3G design extends the age range of the carrier from 7-45lbs making it a terrific buy!
 ACCESSORIES
The Boba Organic Teething Pads are made to snap around the shoulder strap of your Boba Baby Carrier. The teething pads are 100% Organic Cotton, reversible and free of potentially-dangerous chemicals and dyes. They're completely safe for babies who want to chew everything in sight – particularly your Boba Carrier. The Teething Pads are a fantastic accessory and will help to keep your Boba clean and dry while keeping baby content.  The Teething pads will reduce the need to wash your entire Boba when baby chews on just the straps, saving you time and energy and keeping your Boba looking new and fresh.
PURCHASING
Buy directly from the online boutique local and international shipping available or find a store in your area.
For additional information, please visit the Boba Carrier Website.
All pictures copyrighted Boba.