LOVE MILK Nursingwear was founded in 2010 by Helena Henning in Sweden.
The idea of the original Love Milk nursing top (now called Emma) came to Helena while expecting her third child. At the time she had given away all her old nursing clothes, and struggled to find nice enough new tops and dresses that she felt would be worth the money. She also wanted to nurse in comfort and style and feel confident to do so just about anywhere. So Helena set about developing a top that works as an addition to your existing wardrobe, making less impact on your wallet and the environment, and letting you stick to your pre-baby style. She was also determined that it is made from eco-friendly materials and affordably priced.
Helena soon discovered the real need for new mums to dress as stylishly as they used to before they had babies. Most breastfeeding garments she found were either frumpy or just aimed at lounging at home, and very rarely did she come across a beautiful dress designed for nursing that was also flattering and trendy. So the business took off with the aim of creating a fashionable breastfeeding collection, with dresses and tops featuring a clever and hidden nursing access, and also being nice enough to wear at weddings, parties, dinners or just when you want to feel pretty. All the garments are still eco-friendly and affordably priced.
"Love Milk focuses on sustainable, easy and colourful living. But, most importantly, we want to help making nursing easier and let all mothers feel beautiful."
Helena Henning, founder of Love Milk
The Love Milk Collection proves that nursing moms don't need to sacrifice their style and can nurse their babies with confidence and ease all while wearing these chic designs. Love Milk is changing the shape of nursing wear around the globe. The Autumn 2013 collection from Love Milk has been inspired by the very hot nautical and stripes trend and as well as the rich and earthy colours of Autumn. Here are some versatile and stylish pieces from the Love Milk Autumn Collection which have caught our attention: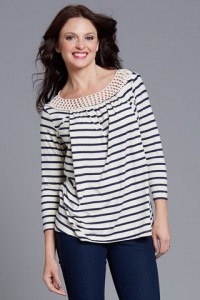 GRACE nursing top, cream/stripe
EMMA nursing vest top, olive green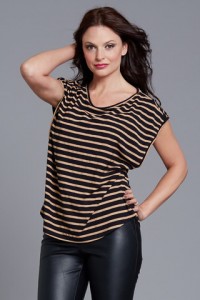 ESME Nursing Top, Black/Gold Stripe
The ESME nursing top immediately caught our attention with its flattering design which is sure to compliment every new mum's post partum figure. This gorgeous top is available in a variety of colours and prints. We love the on trend black and gold stripes and paired with some black trousers or jeans, you can create a stylish and chic look effortlessly. When it is time to nurse baby, simply pull the sleeve inwards (click on product link above) for nursing access. The ESME top is made from a bamboo/elastane fabric and feels beautiful against the skin. The bamboo fabric flows beautifully and the addition of the elastane ensures that your garment retains its shape as well as providing a slimming effect. Available in cream/navy stripe, olive with gold print and black/gold stripe.
The pretty MATILDA night dress exudes femininity and charm and is the perfect pick for warmer nights. The beautiful design of this night dress lends well to both maternity and nursing, making it a terrific deal! The deep V neck and A line cut are very flattering to all figures. This lovely night dress will make any new mom feel beautiful. This night dress is especially suited to the mum who is new to nursing because the nursing access is so straightforward: simply untie the bow when it is time to feed baby. We love the organic cotton jersey fabric and applaud LOVE MILK for committing to eco-friendly fabrics which are kind to the environment, mom and baby. Available in midnight, white and taupe.
For cooler nights, the GISELE pyjama set is the ideal choice of sleep wear and is superbly designed for both the pregnancy and nursing period. The beautiful organic cotton jersey fabric is luxurious and will keep you comfortable all night long. The satin panel on the V neck of the top and the hem of the pants are a lovely touch and make this set a good choice for both sleep wear and or lounge wear. To nurse, simply pull the crossover neckline to the side. This stylish pyjama set is wonderful choice for the upcoming cooler months. Available in taupe or midnight.
PURCHASING
Purchase they beautiful styles directly from the Love Milk Shop or find a retailer in your area.
View the latest collection from Love Milk here.
All images copyrighted Love Milk.