Built on the premise that the fit of a bra can truly change the life of a woman, Le Mystère has become a leader and innovator in the intimate apparel industry.
"By incorporating our 'all about fit' approach to our design technique, Le Mystère proves that we understand a woman's need for both fashion and function."
Known for their seamless, supportive, sculpting t-shirt bras, their brand awareness has grown in recent years, showcasing not only their functional products, but the plethora of feminine, fashion styles that they offer, which never cease to serve a specific purpose in the bra wardrobe of any woman.
Although they are renowned for servicing the needs of the full fit customer, they truly cater to women of all shapes and sizes- from average/shallow busted to those who are full fit and firm. Le Mystere understands that no two women are alike.
If you are looking for smooth, t-shirt styles, lacy date night styles, supportive seamed options, specialty/convertible bras, or even the perfect panty, Le Mystere is able to accommodate you in all of these genres and more!
Remember, Fit, Function and Fashion are the keys to a highly confident, well-dressed woman!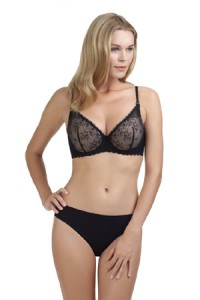 The Sexy Mama Nursing Bra is a gorgeous nursing bra from Le Mystère. The Sexy Mama Nursing Bra is designed to both lift and support the breasts (underwire design) without sacrificing on comfort. The low cut design of the bra doesn't show under your T-shirts enabling you to wear a full range of T-shirts with this bra. The molded foam cups create a smooth look under the clothing as well as discretion. When it is time to nurse, simply pull down the cup (one handed clip design) and you are ready to go!
This stunning bra is wrapped in exclusively designed lace from Desseilles made in Calais, France. This bra is available in Black/Natural and Ivory/Natural in sizes 34-40 C-G. The sizing chart for this brand can be found here.
The Sexy Mama Nursing Bra really does live up to its name and is sure to make any nursing mom feel very sexy. We challenge you to find a sexier nursing bra on the market! Highly recommended.
PURCHASING
To find a retailer or an e-tailer, please click here.