With the peak travel season just around the corner, families are busy making holiday plans and deciding where to stay at their destination. Whether you plan to stay at a hotel, motel or resort, give some thought to where you little one will be sleeping while on holiday.
Most travelling families use cots and play yards provided by motels and hotels. Estimates show that children under age 2 spend more than 7 million nights per year in hotels, motels and resorts.
In an ongoing investigation, the U.S. Consumer Product Safety Commission (CPSC) and the National SAFE KIDS® Campaign found unsafe cots and play yards in the majority of hotels they visited around the country. The UK and other European countries are no different. In several random surveys from 2001-2006, Safe Kids Worldwide found many hotel-issued cots to be defective, damaged or even recalled from the market. From motels to luxury resorts, SAFE KIDS found that four out of five of the hotels they checked had cots with at least one safety hazard including: loose hardware; soft bedding, comforters or pillows that could cause suffocation; or adult-sized sheets that pose a strangulation and suffocation hazard. So even if you are staying at a very pricey, upscale hotel, don't assume that the cots that they will provide you with are any safer. Surprising, is that at the time of the investigation, only one hotel chain committed to making a concerted effort to providing safe cots at their hotels, while the remaining hotels, motels and resorts did not.
Instead of playing Russian roulette and waiting to see what kind of cot your hotel will provide you with on the day (some may not have any on site or not enough to go around), why not take the initiative and plan ahead. Introducing the BABYBJÖRN Travel Cot Light, the innovative lightweight travel cot which will change the way that you go on holiday with your child forever. Used correctly, the Travel Cot Light from BABYBJÖRN is the safest travel cot on the market, bar none. Photo (right) Copyright BABYBJÖRN
The innovative BABYBJÖRN Travel Cot Light is true to its
name and weighs in at just 5kg/11lbs, making it lightweight enough to transport with ease. The BABYBJÖRN Travel Cot Light comes in its own carry case which measures 24″ x 19″ x 7″ complete with a sturdy carry strap.
Once you have arrived at your destination, setting up the BABYBJÖRN
Travel Cot Light couldn't be any easier or any quicker. Simply unzip the carrying case and remove the contents from the bag. Set the mattress aside and holding the travel cot frame in both hands, unfold with one swift movement. Check to make sure that the legs are fully extended and locked into place and then place the mattress inside the cot. That is it, you are done! Even a pregnant mom can set it up with lightening speed, as demonstrated in this demo.
The exceptional Swedish engineering enables the Travel Cot Light to unfold in one swift movement, which is truly remarkable. Even though the Travel Cot weighs in at just 5 kg, the unique design and solid construction makes it very stable. The mattress cover and fabric parts that come into contact with your baby meet Oeko-Tex standards, so parents can rest easy knowing that no harmful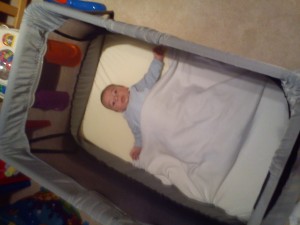 chemicals are coming into contact with your baby. The fabric components of the travel cot are easy to remove and are washable. The mattress measures 42 x 24 in and features a water repellent mattress cover to protect it from accidents. Travelling can be especially tough on little ones and adding to that a strange new environment which can push your baby into sensory overload. Bringing your own travel cot which your baby is familiar with, can help ease the anxiety of travel, and despite the new surroundings, baby is sleeping in his own familiar travel cot which can help to calm and soothe him.
BABYBJÖRN offers an organic cotton fitted sheet (Oeko-Tex certified) which is designed to fit the travel cot mattress perfectly, ensuring a snug and safe fit. Baby will love the soft organic cotton against his skin.

Folding the travel cot is just as easy. Reach in and remove the mattress and place it in the carry bag. Then flip the cot over and following the printed diagram, proceed to fold each leg of the cot so that they criss cross each other. Fold the cot in half and place it inside the mattress, zip the bag and you are ready to go.
The BABYBJÖRN Travel Cot Light is very versatile and will prove to be invaluable during sleepovers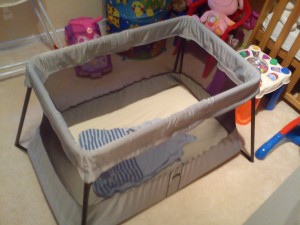 at grandmas house, or simply nap times at home so that mom can keep a close eye on baby during the day, while continuing with the household chores.
The BABYBJÖRN Travel Cot Light is ideal for newborns to age 3 and is currently available in a 4 colour choices. For purchasing information, please click here
For additional information, please visit: www.babybjorn.co.uk 
Select photographs are Copyright BABYBJÖRN. Please see above.