Product Description:
Charge on the trail with this running shoe that cinches to your foot to become a cradle of stability and agility to tackle tricky terrain. Feel secure with the upper's specialized 360º fit that moulds to your foot. Impact-responsive Unifly™ cushioning underfoot gives you sensitivity and connection to the ground for better control, while offering a protective buffer to smooth out pointy rocks and roots.
UPPER / LINING
• Mesh upper
• Reflective details for increased visibility in low light
• Removable footbed treated with M Select™ FRESH shoe odour control
• HyperWrap 360 Degrees Fit System locks the foot in place to enhance natural stability and agility
MIDSOLE / OUTSOLE
• 6mm Drop / 20mm Cush / 27mm Stack Height
• Moulded nylon arch shank
• UniFly™ midsole connects you to the trail, protects you from the terrain
• 5mm Lugs depth
• M Select™ GRIP tunes each outsole with durable traction that grips when and where you need it
• Vegan friendly footwear
Women's Sizes: 3.5-8.5
Women's Weight: 241g (1/2 pair)
Technology:
Merrell select grip with versatile outsoles for slip resistance on wet and dry terrain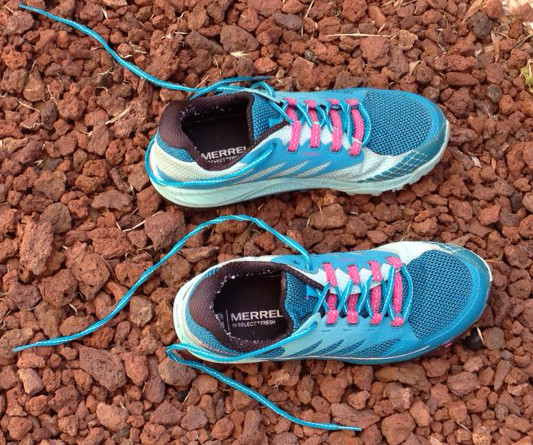 User Review:
We all know how important exercising is for our health and well-being. Merrell has a full line of shoes and clothing to support an active lifestyle. It is so important to invest in good quality shoes that will carry you through your active lifestyle. Merrell has recently launched the All Out Charge which we are reviewing today. The All Out Charge is available in 6 beautifully vivid colours. The first thing that you will notice is how lightweight the shoe is yet it doesn't fall short on quality. This is the ideal shoe to pack when you are travelling as it won't take up much weight. We were impressed with the outsoles which allowed us to access both wet and dry terrain safely without the fear of slipping. The UniFly cushioning underfoot helps to minimise the rougher terrain beneath your shoe and helps to give you a smoother run. Above all, the superior comfort of this shoe will have you keep reaching for the All Out Charge time and time again. Merrell M-Select Fresh insole to keep your shoes odor free and ensure the longevity of the shoe.  HyperWrap 360 degree system locks the foot in place and this will help to prevent injuries and discomfort. Please note that this style runs wide and it will suit runners with a wider foot. Overall, the All Out Charge is a fantastic running shoe. Highly recommended.
PURCHASING:
To find a store near you, please click here
To see the full range from Merrell please click here.